What to Do When a Customer Will Not Pay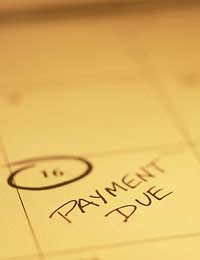 When running an electrical repair business your main income will be from customers seeking repairs. Unfortunately, there will be times when a customer does not pay their bill and for these times you must have a contingency plan.
Cash, Debit or Credit?
You should make it clear to your customers how you expect to be paid. Have a sign on your counter, if you operate from a shop stating whether you accept credit and debit cards or even cheques. Some businesses that have been hit hard by bouncing cheques and dodgy credit cards will only accept cash. This is fine if the customer is aware of your payment terms but if they're not you could lose valuable business.
Accepting Payment by Cheque
Always ask to see a cheque guarantee card when customers pay by cheque. Write the long number that is shown on the card and also the expiry date. It doesn't hurt to add the customer's name, address and invoice number as well this way if the cheque is returned from your bank you can quickly identify the customer. Make sure your staff are aware of these procedures for accepting payment. Never under any circumstances ask the customer to write their own details on the back of their cheques.
Dealing with Business Customers
It is likely that you will have a few business customers amongst your clients who will settle their debt each month. Unfortunately some customers take advantage of this method of payment and it can be nearly three months before you receive payment. When offering business customers these terms make sure they are aware of your terms of trading and put it in a letter to the accounts office and the business owner. Show clearly that you add interest if the agreement is abused.
Telephone your trade customers on time to request payment; if you are seen to be firm you will soon be paid. Never offer more credit if business customers have not settled the previous months debt. Make sure you or the member of staff that works on your accounts is on the ball when chasing non payment, this is a big part of business accounts and is called credit control.
Being Paid for Home Visits
Sometimes after repairing an electrical item in the home you find the customer does not have the money to pay you. This is one situation where the customer seems to have the upper hand whether it is intentional or not. Try to avoid these situations by telling the customer what you charge when they telephone to book a service call. If it is a big job then take the electrical item into your workshop to carry out the repair and then make sure that you telephone customers before you return the items so that they are aware of the amount of their debt. Never accept post dated cheques as they can be cancelled or bounce!
If a customer cannot pay be prepared to remove the electrical item if you have taken it into the home. If you have a shop do not hand over items until satisfactory payment is made.
If Payment is Not Made
If a debt is not paid for any reason write to the customer asking for the payment. If this is ignored you can either use a debt recovery company or you can go to the small claims court. Although it is straight forward to make a claim for non payment it can be time consuming. Remember that all debt recovers charges are added to the customer's debt so for speed use a debt recovery service who will ensure that your money is paid by any wayward customers on your books.
Using your own Judgement
It could be that your customers who do not pay their debt on time have genuine reasons why they cannot pay their debt on time. Use your own judgement before taking proceedings against them. Perhaps a payment plan could be the answer, it is your business and at the end of the day it is your choice whether to chase a debt or write it off. Yes customers must pay their bills but you must use your discretion as to how you chase a non payment.
You might also like...