Safety at Your Shop Premises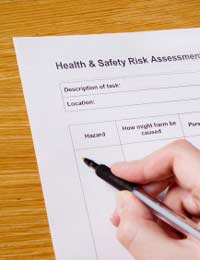 When starting your electrical repair business you must make provisions of the safety of your customers and employees in your shop or workshop.
Duty of Care
Like any employer you must have a duty of care to your employees. You should be able to assess your shop or premises and be aware of any hazardous areas and also be aware of the safety of your staff and customers. All employees must:
Ensure the workplace is safe, paper and packaging must not be left on the floor where staff and customers may trip and harm themselves.
Machinery and tools are fit for use and no cables or electric points are bare or wired wrongly. Make sure that all electrical equipment of a certain age has been PAT tested and that you have a certificate to show this has been carried out by a trained and qualified engineer which will show that you care for your staff and their safety.
Have adequate first aid facilities and if possible send one member of staff who works full time in your premises on a first aid course. Have signs strategically placed telling staff and customers where the first aid box is kept.
Your premises should be well lit especially around stairs, steps and equipment.
Protective clothing should be supplied to staff working with hazardous or messy materials to protect their safety. Washing facilities should also be supplied.
Staff Training
Make a point of having regular staff meetings, even if you only have several staff members. These meetings should be about the business, any changes that you see in the day to day running of the shop and also any changes to the premises that will reflect upon the staff's duties.
You are not holding these meetings to ask staff how to run your business nor are they for telling staff financial of management information. A few minutes several times each week can keep staff up to date with safety issues concerning the shop and the business premises. Keep a log of these meetings so that there is a record of health and safety discussions if a problem should occur at a later date.
Customers Safety
If there are steps or obstacles on your premises that could affect the safety of your customers remember to put reflective tape at the edges and have a prominently placed sign that show the hazard. If you have been awarded a health and safety certificate for any training or schemes that your shop has been involved in, then display them to show your customers that you care for their safety.
In Case of Fire
Have signs for fire exits and any fire fighting equipment displayed where customers and staff can see it. Make sure your staff has training in fire drill for your shop or premises and hold fire drills at unexpected moments to keep your staff on their toes. By observing a few rules and keeping your shop and premises tidy, safety rules would have been observed and your customers and staff will be able to enter your premises in safety.
You might also like...