Selling and Repairing Sewing Machines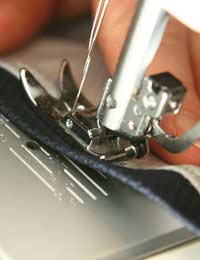 Diversifying within the electrical trade could save the business of many electricians. One choice is to move into the repair of sewing machines and the supply of peripheral items and services connected to the world of sewing.
Dressmaking
With a resurgence of interest in dressmaking, knitting, sewing and craftwork experienced electricians may find there is a market in the repair and sales of sewing machines whether from home or a shop. Many women now own sewing machines and these need servicing and repair. New sewing machines can cost thousands of pounds and are at the front of electronic technology. Manufacturers that offer agencies to shops to stock their products will train engineers and also give them exclusive areas in which to operate.
Second Hand
There has always been a market for second hand and reconditioned sewing machines. With this as a sideline to a repair business the shop will have regular visitors. Knitting machines again can be very technical items and people that use them are in need of good engineers who can supply parts and make good any problems with their valuable equipment. Many dressmakers are attached to their sewing machines that are handed down from mothers as well as grandmothers. Parts need repairing and replacing and to leave their precious equipment with someone reliable is a big relief.
Repair Service
Offering a home repair business or a collection and drop off service is appealing to the older person and it is from this age range that much of the weekly work will come. Schools and colleges who teach sewing and knitting as well as other crafts skills need engineers that can repair their machines with speed and efficiency so lessons aren't held up because of broken equipment. Visit wool shops, craft shops in fact any independent shop that would be interested and offer a drop off service whereby they take in sewing machines for repair and you collect the item and return it repaired paying the shop owner a small commission for their service.
Stock
If working from a shop stocking fabric, wool, patterns and other useful craft items will attract passing trade. Holding workshops and demonstrations from suppliers or craft and dressmaking demonstrations can make your shop well known in the area. It may be that you have to take on part time staff for this side of the business so employ someone with sewing knowledge that they can share with the customer.
The Workplace
Many small companies need to use domestic sewing machines and being able to offer a repair service, second hand sales or even machine rental can increase turnover quote effectively.
Events
Craft shows are popular events and by having a stand to demonstrate new sewing machines and also show what your business can offer will generate new custom. Colleges and schools arrange displays such fashion shows. Liaise with tutors to be part of these events and perhaps sponsor a competition will bring your name to younger customers as well as their parents.
Web Sites
Having a website is very common for any business these days. Show special offers such as reconditioned second hand machines along with hints and tips for sewing enthusiasts so that visitors return to read your pages each week.
You might also like...