Repairs from a Shop: How to Charge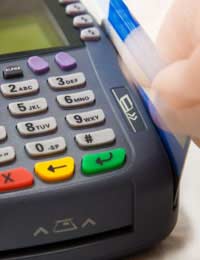 When repairing items from a workshop or shop the business owner needs to know what to charge his customer in order to remain competitive but to also make a profit.
Overheads and Costs
The shop owner must know every penny it costs to keep his business running. Without this knowledge he will have no idea of his outgoings so how can he know what to charge a customer? Overheads and costs can be rent, mortgage, council tax, electricity, gas, water, insurance, telephone and Internet connections. If he runs a vehicle for the business this should be listed to along with any costs to keep the vehicle on the road. Once he is aware of his monthly outgoings (and include wage costs in this as well) only then can he start to calculate how to charge his customers.
Per Hour
Once the business owner has a total for his monthly outgoings he needs to decide on his trading or opening hours. Divide the number of hours he is open into the monthly outgoing figure and this will give the hourly money he needs to earn just to break even. Some people may think that a shop owner only needs to know a weekly break even figure but for anyone who charges an hourly rate for a repair it helps to know what his hourly outgoings are. It can be quite frightening.
Materials
When a customer brings in an item for repair the engineer or electrician must keep a note of how long he takes to repair the item. Also any parts needed to make good the repair. At this point if we simply added the hourly rate to the material costs we would have a figure to charge the customer but it would not make a profit for the business and I may not be enough to keep the business going if he only took in a few jobs each week would it?
Profit
The business needs to make a profit not only to be ahead during weeks when business is not so good but also to expand and to be able to stay abreast of rising costs and higher wage bills. Many people simply double the hourly figure calculated above and add on the cost of materials plus VAT if registered to do so. However this may be far too much to charge a customer who may go down the street to an electrical repair shop that is cheaper.
Market Research
The business owner needs to be aware of what other businesses in the area charge their customers. This can be done by reading websites, keeping an eye on any advertising or simply by having a family member or friend go check it out for them. But, once you have found the going rate for repairs without making yourself destitute by charging too little you need to know that you will take in enough repairs each week to cover your overheads.
Cutting Costs
Whilst the business is growing it may be an idea to take a lower wage and cut other staff's working hours. Do not over stock the repair stock especially if it can be purchased at the same price as and when needed. By watching the pennies and knowing the overheads of any business the owner should be able to make a profit.
You might also like...