Service Calls When Only a Child is at Home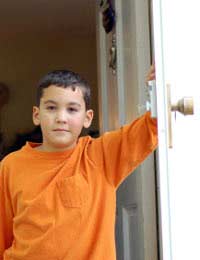 It is surprising how many times you will arrive at a customer's home to find that after booking a call they are not home and there is a child in the house alone who is supposed to let you in to carry out the repair. At times like these a service engineer should tread with caution for a number of reasons.
Booking Service Calls
When your customers telephone to book a service call check that they will be home to let you in. If there is any doubt whatsoever rebook to call for a more convenient time. It is amazing how many people are happy to leave a key for you to enter their home alone or indeed expect a teenager to deal with the repair man. No one is saying you are not trustworthy or a danger to their home and family but you should protect yourself from being in these situations.
Making a Service Call - Children
It is highly unlikely that a young child is alone at home when you call, but if they are then leave your card and tell the child you will contact their parent to rebook the call. Never enter the home alone with the child. Sadly in this day and age an adult alone with a child other than their own can be seen to be dangerous. You could be a model citizen and a caring parent but one accusation and your reputation will slip and your business ruined. Furthermore young children should not be home alone or babysitting siblings for safety reasons.
If you think the child is in danger you should contact your local social services or even the police and report the matter if you are seriously worried about their safety. Not all people are as honest as you and it is your duty to report the matter if you think a child is in danger.
Making a Service Call - Neighbours
If a neighbour is there to let you in to do the repair you may find that you have to make several house visits as not only will the neighbour not be able to pay you but they will be unable to authorise a repair once you diagnose the fault. Again, leave your card and book the call for a more convenient time.
Having the Right Insurance
If you find yourself in a compromising situation, say alone with a young child or left alone in the customers home, you may find that your public liability insurance becomes void if there is a claim against you. A service engineer has to be careful at all times to make sure he or she is not left in a vulnerable position. With more and more women going into the service trades they must also make sure that when making house calls they do not find themselves compromised or in dangerous situations.
Safety when on a Service Call
When working with electricity and dangerous materials make sure that the customer keeps both young children and family pets away from you or your staff whilst they are working. You may be covered with your public liability insurance but it would be distressing if a child or animal was injured, or worse, while you were in their home.
You might also like...