Visiting Customers in Their Homes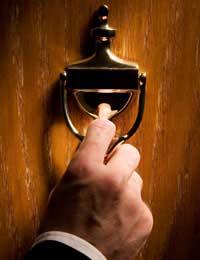 Visiting customers in their own house to carry out repairs is a big part of the electrical repair trade. The common names for this service are 'call out' or 'house call' and there are certain observations you should be aware of when offering this service. Offering house calls will bring in extra customers who are not always able to visit your shop or workshop.
Visiting Customers
Try to give a window of time when you can make the call to the customer's house. No one likes to wait in all day for a service call, tell the customer that the call will be from ten in the morning and you will ring if you are held up. This form of service will please your customers and put you in good stead for future bookings. Customers will also recommend you to friends and family if you offer a reliable service.
Using Booking Forms
Design a booking form so that all important information is to hand before you visit the customer's house. This will make sure that you arrive at the right house and can carry out your work as you have the correct details to hand.
Name, telephone number and address: This will ensure you arrive at the right house and can contact the customers if delayed. This information is also needed for the invoice.
Make and model of television or item needing repair. This will mean that you can carry the right circuit diagrams. Also there will be some items you do not repair so by taking down this information you will not waste your times or the customers.
Size of television or other electrical item. Since the introduction of larger televisions it is sometimes not possible for one man to repair or lift the larger sets. By knowing in advance what the size of the item is you can arrange for a colleague to make the house call with you and also be able to inform the customers of the higher invoice cost because of extra labour charges.
Details of when the customer is at home. It is just a waste of time if you do not ask this vital question.
Call Out Charge
For some reason customers seem to become upset if they think they have to pay a call out charge. If they question this ask them what their job is and whether they do this for free? Rather than quote for a call out fee tell your customers that you charge a set fee which includes the first hours labour. If they decide not to go ahead with the work needed, or if the repair is not viable, then they only have to pay this charge. If the work is agreed and you can repair the item in the customer's home then the charge is the labour plus material. Quite often the work can be carried out within one hour and the customers are happy. By rewording your charges everyone is happy. House calls are a big part of an electrical business owner's income and some care should be taken when planning this side of the business.
The Young and Elderly
Quite often customers will expect you to call when they are at work and their children are in the house alone. Try to avoid these situations as it is not a good idea to be alone with children in these modern times. Also, children cannot approve work or pay your bill. Book calls to the customer's house when they are home to be on the safe side. Similarly the elderly can become very confused and there are some types of people who will take advantage of this. If possible ask for a contact number so that you can discuss the repair problem with a friend of family member of the customer. Taking advantage of an elderly person will not give your business a good name.
You might also like...