Working from Home Didn't Work: A Case Study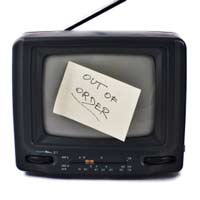 Jason Brown thought he was doing well when he first started to work from home but unfortunately his wife and children thought otherwise.
"When I was made redundant from my television engineers job I thought I'd go self employed and work from home. We had a garage and an electricity supply so it wouldn't take much to put in a bench and run a few adverts in the local press. I had a few private customers that had built up over the years and by dropping them a postcard they now knew I was available all hours. Someone told me once that in my line of business I had to be available all the time to attract customers so I called myself 'All Hours Repairs' it was catchy and it seemed to work."
The Reality
"My wife June realised I would have to work all hours otherwise she couldn't have a holiday and the refurbishments to the house that we had planned. The children were fine about it as long as they had their pocket money they weren't really bothered what I did for a living. It was all fine on paper so to speak but once people were ringing our home late in the evening and banging on the door on Sundays our lives never quite felt the same.
"I also found that by taking over the garage there was no space for the bikes and garden equipment. Some had to go into the hallway which annoyed June and when her car was vandalised in the street she began to complain about the lack of security."
Christmas was Spoiled
"Things came to a head when there was a knock on our door as we sat down to eat our Christmas dinner. A man stood there with his television in his arms wanting it repaired before the Queens speech. Of course I had to do it – I couldn't upset a customer I might lose him to a competitor. June was livid, the children started crying and my mother in law sent the man packing. Christmas was ruined and I slept in the spare bedroom for two weeks!"
What Next?
"Finally we sat down and discussed what we could do. There were no jobs available so I had to keep on working for myself. My mother in law was a gem; she came up with the solution. She worked part time for a high street stationer and it seemed he had a large store room at the back of his premises. There was a separate access and after speaking with him and showing him that I had insurance cover he offered me the room on a trial basis. It meant that I had to go back to working proper hours but my customers understood. June and the children were happy – they had their garage back!"
One Year Later
"One year on we had a peaceful Christmas, I finished work for the holiday on Christmas Eve and we were a happy family once more. The business has thrived, so much so that I'm thinking of taking on one of the empty shops near to my workshop and have a 'while you wait' repair service."
You might also like...