Parts and Spares for your Electrical Business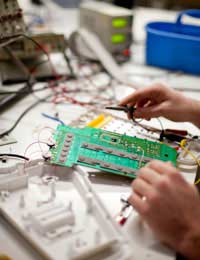 Parts and spares are an important part of an electrical business. Knowing where to find them and what to pay can make the difference between a profit and loss.
Repairing Equipment
When an item comes into the workshop for repair it is vital that a proper diagnosis is made of the fault on the equipment. Guesswork or a wrong diagnosis can mean that the wrong part is purchased and the equipment is still not repaired. The engineer cannot honestly pass this costly mistake onto the customer and if it cannot be returned to the supplier or used elsewhere it has simply wasted money for the business and who can afford to do that?
Where to Buy
Sourcing parts for repair work should be taken seriously. A few hours spent on the computer or reading trade publications can glean information on new suppliers who are offering special prices and can also give a faster delivery which would benefit you and your customer. It could even be that spare parts you require are sold on the high street in a DIY superstore cheaper than what you pay from a wholesaler. Remember though that you will need a proper invoice for the purchase as a till receipt is not always a proper tax invoice. Sometimes the shop owner will be offered second hand parts from items that have been broken down for spares after not being viable for repair. Be wary of using these parts as they are unreliable and could either break down very soon or be a danger to the customer.
Gaining a Discount
Try to buy stock so that you gain a discount. It maybe that by buying three items it is cheaper than one and so on. But only take advantage of these offers if the parts will be used within a short time or you will find yourself holding onto dead stock that has to be paid for. Never be frightened to ask for a discount when paying cash – it never hurts to ask.
Accounts
Open an account with a trade wholesaler. The benefits range from special prices, discounts for bulk buying to discounts for paying the invoice on time. Furthermore you can take advantage of not paying the bill for a month (sometimes longer) which means that the customer would have paid their bill by the time the supplier is due to be paid and you have not tied up any spare cash in stock. Some suppliers will also take back unused stock and will have a trade desk where you can walk in and collect parts whenever they are needed. Be careful though as the thought of not having to pay for at lest one month can cause one to overspend on stock that is not necessary for the business.
Trade Associations
It may be beneficial to join a trade association to gain discount on stock as well as spares for your repairs. These associations also offer other benefits such as training schemes and technical data such as diagrams and computer programs to assist repairs. Associations as well as major manufacturers and suppliers are quite generous with promotional material that will save an electrical repair business many pounds each year.
You might also like...