Relevant Qualifications for Medical Repairs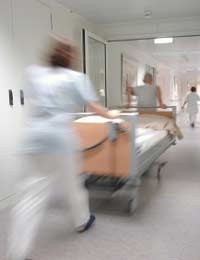 Another way for electrical engineers to diversify is by going into medical repairs. This can be part time for a supplier or by moving from television, satellite or white goods repairs into a new business as a full time employee.
A Changing Trade
The electrical trade has changed over the years and many people who trained in safe occupations such as television and video repairs now find that there is not enough work to keep them fully employed. Rental companies employed and trained many engineers during the 1960's and 1970's but these days not only do people not rent their viewing equipment but they can also buy it at a reduced price in supermarkets and discount stores. This turn around in trade means that many electrical appliances are now not worth repairing and have become disposable items. Engineers need to move into another trade and medical repairs are an up and coming industry.
List All Your Qualifications on Your CV
To begin with, an electrician from another trade has to be able to persuade an employer that they are capable of moving into a new industry. Make sure that your CV fully reflects your interest in the medical trade and shows that you are competent by listing your qualifications. If some of your qualifications are a little vague just list the titles and do not explain too much about them. To be able to study and pass exams is enough evidence that your are capable of working in a new industry and able to study and obtain more qualifications when needed.
Attending an Interview
When you attend an interview impress your desire to work in medical repairs. Make sure that you have read up all there is to know about the company and ask lots of questions. This can cover any awkward gaps in your knowledge and will show you are interested in the medical trade. It is up to you to sell yourself.
On The Job Training
Companies that employ engineers and electricians in their workshops usually offer on the job training as they are most likely to be working on the company's own products. Although there will not be any formal qualifications you will gain knowledge about the products and be able to carry out your job competently before too long. Be prepared to ask questions of your fellow workers and do not be too proud to take on menial tasks whilst learning your job.
Manufacturers Training
It is quite common for manufacturers of new medical equipment to give training to engineers who will ultimately undertake repairs. This can mean travelling to the manufacturers premises, often overseas, so make sure your passport is up to date and you are available to travel at a moment's notice. An employee who is keen to learn his trade will soon move up the management ladder.
Keep a Training Record
Keep a record of any training that is given to you whether it is in house or at manufacturer's premises. Although these may not be formal qualifications the training will show that you have the skills required to move onto another medical repair job if it should arise in the future.
You might also like...