Working Around Your Family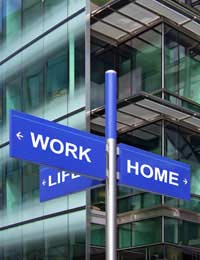 When running your own electrical repair business you may find yourself on call many hours each day and seven days each week. You have to decide your work life balance before something breaks.
Taking Time Out
It goes without saying that work is important to everyone's life but when starting your own business it will have to take priority when you first start out. Having an electrical repair business with a call out service means that you will be working evenings and weekends. These hours will be on top of your usual working hours. If you are a one man band this could put a strain on your own health and lifestyle as well as that of your partner and children.
You will quickly get to know when the busy periods of work are to be. If you find that weekends and evenings are your busy time then take time off during the day, perhaps to collect your children from school and be together for the family meal before setting off for work. If you find you are on call every day then plan to take one day each week off and make this clear to your customers.
Coping with a Shop
If you have a shop that keep you busy all day before you set out to do call outs after hours try to take on a member of staff who could cover for you so that you can have some time with the family or just to be at home. This does not mean that you spend your time at home pouring over accounts and talking on the telephone. You must learn when to close the door on the business and remember that you have a partner and family.
Consider your Partner
Your partner is the one who will suffer most if you work every evening. He or she will not be able to follow their own interests as they will be left in sole charge of the children. Help them by taking an interest in their hobbies and trying to find a suitable babysitter or minder so that your partner's own life does not become too restricted and your relationship suffers.
Planning Work Around a Family
Set up a family calendar where every member of the family enters details of special events such as school plays and sport events. Family birthdays and get togethers should also be entered. Use this calendar to transfer details to your work diary and plan work around the family so they are not ignored while you are building up your business.
Balancing Work and Home Life
Impress upon your family that the business is important as without it there will not be an income for the family to enjoy. Plan treats for the family, or an evening out with your partner, so that everyone knows that there are rewards for the long hours that you will have to work until the business is successful enough for you to employ more staff. By balancing your work and home life both you and your family will be happy.
You might also like...