Female Staff in a Male Environment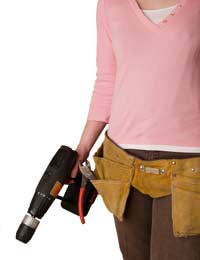 In these days of equal opportunities you must interview women as well as men for all positions in your electrical repair business. These days you are as likely to see a woman repairing a television or wiring a house as you are a man.
Engineering in Schools
Training starts early in schools with girls opting to take engineering and electrical courses alongside boys. This means that more girls than ever are going into trades traditionally thought of as a man's domain.
Advertising for Staff
When advertising for a new member of staff you cannot request a man for the job nor stipulate an age range. Yes you can say that the job entails heavy lifting or perhaps working at heights but you cannot ask for a young man and refuse to interview an older woman. Of course there are ways round avoiding employing a person of a certain age or sex and it is harder than ever for older men to find employment in the workplace let alone women in a male environment.
Encountering Prejudice
Your female staff members may encounter prejudice amongst the male workforce especially if the female staff progress to management levels. Provide your female staff with a mentor so that problems can be aired and ironed out before trouble looms.
Harassment in the Workplace
Yes, unfortunately female staff will still be harassed in the workplace and it is down to you as owner of the business to stamp out any unpleasantness. Monitor situations and speak to male members if their jokes become too unpleasant. Sometimes this is just the make members marking their territory and things will settle down once the female staff are accepted. Explain equal opportunities to you staff and let it be seen that you will not tolerate harassment of the female staff.
Equal Wages
It is also illegal to pay female staff a lower wage than a male doing the same job. The equal opportunities laws from the early 1970's set in motion the plans for women to be accepted as equals to men in the workplace. Although the popular saying was that women burnt their bras in the 1970's it was merely a statement to say that because of the Equal Opportunities changes women must be paid the same and given the same jobs as men. No longer were women thought to work a few years until they married and started a family.
Providing Facilities for Female Staff
Once you employ women in your workforce whether they are engineers, electricians or shop workers you must provide toilet facilities for them. You must also provide changing facilities if they have to change into work wear or work in a messy trade. Although you must provide a place for staff to sit and take their breaks this does not have to be separated for men and women.
Female Staff
Women who choose to work in a male environment should not actively try to upset the male staff by having to prove themselves all the time. They should work naturally and be themselves. This way everyone will work together and equal opportunities in your business will become an accepted way of life.
You might also like...