Using Sub Contractors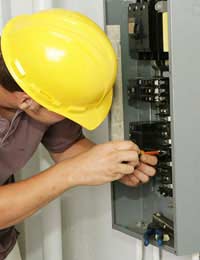 When setting up your electrical repair business consider the benefits of hiring a sub contractors or contractor to carry out a contract.
Hiring Sub contractors
Sub contractors are experienced workers who only work when required. This may be for a set period to clear a contract or it may be several days each week when you require engineers in your workshop or out on a contract.
Paying Tax and National Insurance
Sub contractors take care of their own tax and national insurance payments. They can be self employed or they can be limited companies. They will need to supply you with an invoice for their work before they are paid. In some parts of the industry sub contractors have to be registered with the government and issue those that hire them with certificates.
Always Check and Verify Qualifications
Sub contractors and all other workers in the electrical business must have qualifications before working with electricity. Electrical contractors must have taken the City and Guilds 2382 (17th Edition) and hold a current certificate before they work with electricity in homes and buildings. This certificate is upgraded quite often and any sub contractors or electrical contractors you hire must show you their certification. Photo copy this and keep it with your accounts.
Electrical Contractors
If you require a large amount of electrical work carried out as part of a contract, it could be worth hiring electrical contractors to carry out the job. They will have the expertise and also the insurance and qualified staff to carry out the work, saving you the hassle of hiring sub contractors and checking that they have the required credentials.
Who Provides the Tools?
Sub contractors carry their own tools and have their own vehicles. They may even supply the materials for the job and pass on the cost to you in their invoice. You must decide whether this is cost effective or whether you are better purchasing materials yourself. If you buy the materials you can control the cost and also check the quality.
VAT Registered
Sub contractors can also be registered for VAT depending on their earning level. If they charge VAT on their invoice it must show their VAT number. Failure to comply or if they charge VAT when they are not registered incurs a heavy fine by the HM Customs and Excise.If your business is registered for VAT you will be able to offset the payment in your next VAT return.
Training and Insurance
Sub contractors pay for their own training and also carry their own public liability insurance. They are in fact a separate entity from your business and you hire them for one particular service or job and do not have to pay holiday money or redundancy payment when they leave your company.
Who Pays the Assistants?
Sub contractors, contractors and electrical contractors often have assistants with them who do the more menial tasks whilst learning their trade. You do not have to pay these youngsters as they are paid by the sub contractor or contractors who have costed for their wage in with the quote they gave you for the job.
You might also like...