Networking for Your Business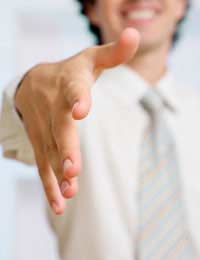 Business networking is where you meet up with people within your own trade or other business owners who can further your own business. A network of contacts can be beneficial to your business and gain you more clients and customers.
Joining Local Groups
Within your home and work community there will be groups of people who meet regularly either for business or social pursuits such as rotary or Masonic organisations. By joining these and talking about your business you will be advertising your company for free, finding new customers and also possibly putting you in line for contracts from other businesses.
Playing Sport
Sports such as tennis squash and golf will bring you in contact with other people. As you get to know them either on the sports field or in the clubhouse you can discuss your business activities. It is up to you whether you separate your business from your social life but by always being ready to promote your work you will gain some really good contacts and also line up future work for your business.
Sponsoring Social Events
If you trade regularly with major suppliers you will be invited to their social events and dinners. These could be charity events where your business can sponsor a table, match or game and have your name in the programme or menu. Other traders will speak to you and networking amongst likeminded traders will develop very quickly. News on large contracts can be discussed. Sharing your workforce on major projects and staff training can also be subjects passed between different business owners. Above all you will make friends with people who share similar interests and passions for their work.
Local Councils
Many electrical workers obtain vast amounts of their contracts from local and town councils. By meeting the people behind these contracts at clubs and organisations you will make your face known to the people who 'pull the strings.' Take advantage of these meetings to promote your business skills so that when your applications are put before them they can consider you reliability to carry out the work on a more favourable footing as they have met you beforehand.
Speaking at Local Groups
Quite often groups and clubs will ask for speakers for their meetings. If you can stand up and talk clearly and amusingly for half an hour or so you will find you are in demand. Talk about your working life, funny things that have happened in your business or even on more serious subjects such as setting up a local business or overcoming illness and other problems to be a business owner. If you network this way you will be bringing your name and the name of your business to the attention of customers who may just remember you when they require electrical work carried out in their home.
When you give talks like this always make sure your brochure, business card or a flyer is available to every person at the event. Also, give the event organiser a short profile of you and your business so that it can be distributed to members, put into newsletters and onto the website of the organisation in advance of the event. This can lead to future bookings, other network events and more work for your business.
Business Networking
Treat business networking as part of your business plan and it will reap rewards. Network regularly and see your business gain work from customers and other businesses.
You might also like...