Following a Loss Leader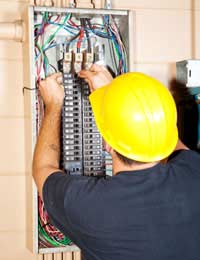 Sometimes things go wrong and a repair costs more than originally estimated. How does the owner of an electrical repair business recover from such a disaster? By turning it into a loss leader and by using other loss leaders in the shop sales could increase.
Wrong Price
There is always that awful moment when you realise a calculation is wrong and the repair that you are working on is not going to make a profit for your business. It may have been a simple error adding up the invoice. Perhaps you looked up the wrong price of the parts that were to be fitted or simply left off the labour charge. Whatever the reason the mistake has been made and it must be accepted. Hopefully lessons will be learnt from the mistake and if a new system has to be put into operation when pricing a repair then so be it.
The Customer
It is not professional to ask the customer for more money. Chances are they would refuse but even if they paid it would make your repair service seem second rate and not one to be relied upon. By all means joke that they had a good deal and it cannot be repeated but keep the atmosphere light and do not let the customer see how annoyed you are with yourself.
Loss Leader
A loss leader is usually something that is sold that does not make a profit for the business but leads a customer to spend money either on other items in the shop or at a later date. By giving a good service the customer that you undercharged will return to spend with you once more. Rather than cry over spilt milk let the customer know he had good service from you.
Lead a Customer to Buy
When the customer returns to your shop to collect the repaired item why not show them some other goods that are related to the item you just repaired? Even small items displayed on the counter will attract their attention and if you ask if they need light bulbs, batteries or perhaps a fire alarm you cold make another sale.
Promote Yourself
Remember above anything else to keep promoting yourself. Post or even email information about special prices. Again you may not be making a profit on the goods but it will lead the customer to come into your shop and spend money. Offering an item at cost if the customer spends say £30 will bring more custom to you business which makes offering a loss leader a very worthwhile project.
Learn
Learn from supermarkets. Look at how they put essential items at the back of the store so that customers pick up items to buy before they reach the item they really wanted. You too could do this in your shop. Even having a chair placed in the shop so that customers sit and wait for their repair can have them browse amongst stock placed within their sight. A few simple tricks can produce more sales.
You might also like...