Advertising Your Electrical Business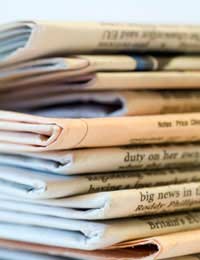 So, you've set up your new electrical business and the doors are open and phone lines ready – but where are the customers? Advertising is a very important part of your electrical business and it is down to you as business owner to make sure that the name of your business is known to as many people as possible. If someone needs electrical work carried out they need to be able to lay their hands on the right name – yours – as quickly and easily as possible.
Advertising in Local Newspapers
Local newspaper can be a possible source of advertising. The free version of the paper is guaranteed to drop through a certain number of letter boxes each week. However this can be an expensive way to advertise your electrical business. One advert will probably not make much impact, you need to have a continual presence in the publication for it to register with potential customers. Negotiate for a discount for a series of adverting insertions. These days most local newspapers have an online version and a website. Make sure that your advertising is shown on there as well.
An Advertorial for your Business
An advertorial is something that resembles an article about your electrical business. However, it is a paid insertion so will promote your company rather than criticise it in any way. Quite often a photograph will run alongside the advertorial and the whole piece will cover about a quarter to half of the page.
A Business Website
These days many more people will go online to look for a supplier or a service repair man. By having a website for your business you will be on view to potential customers twenty four hours a day. Depending on your requirements a website can be built for a few pounds or cost a lot of money. It is possible to purchase a website package along with your own domain name that has page templates already established that you can write yourself. Just by showing a contact number and details of your shop or workshop and the area that you cover, you will have advertised your business on the internet. Do remember though, that you or a member of your staff will have to check your emails on a regular basis so that customers are replied to as soon as possible.
Online Contacts
It may be that you have colleagues and friends in other areas or trades that compliment your own. By recommending each other you are furthering your online advertising without it costing one penny of your advertising budget.
Local Radio
Local radio has moved on in recent years and there are now many to be found in your area. From community radio stations, hospital radio and also regional stations associated with national radio there is a lot of air time to be filled. It is possible to purchase advertising time on these stations or even sponsor a programme so that listeners become aware of your electrical business whilst listening to their favourite programmes.
Leaflets and Fliers
It is possible to have a leaflet printed showing your electrical business and any special offers that you are running and have it delivered to households in the vicinity of your business. This can be carried out by a company who will print and deliver or you can do the same thing on a budget yourself. These days with computers in most homes you can type up your own leaflet or single sheet flier and print it on a home printer. Involve family and friends to help you distribute the fliers and soon business will be flying in.
Business Directories
It seems as soon as you start a business the owners of directories sniff you out. Before handing over large sums of money to advertise your electrical business check out who reads the publications, whether your advertising will be seen on an online edition and that the company publishing the directory is genuine.
Advertising in Phone Books
This was one of the first ways a customer used to look for an electrical business. However, with the introduction of online advertising this has diminished. Speak to fellow electrical business owners and find out if they still obtain work from this form of advertising. Compare prices to other forms of advertising before signing on the dotted line.
You might also like...