Find the Right Location For the Business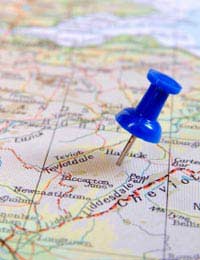 When starting your electrical business it is imperative that it is the right location. Setting up close to a major repair company or in an isolated place can really damage future business prospects. Depending on whether you are setting up a shop or service workshop, do your homework thoroughly and plan for every eventuality before you hand over your hard earned cash.
Choosing a Shop Location
If you plan to run your electrical business from a shop you must check out your competitors. Even though you are offering electrical servicing, a shop front gives you the opportunity to sell products as well. Sadly high street stores and supermarkets are selling televisions and other electrical appliances so cheaply that they have almost become a throw away item. This has hit the repair trade and you will need to keep your repair charges low or customers will not accept your quotes. Perhaps aim to sell and repair high end equipment rather than cheaper products and gain a reputation for quality service.
Delivery and Set Up Service
Something that the big stores do not offer is a delivery and set up service. Customers are often seen staggering from supermarkets with hifi's or televisions on their shopping trolleys. They have to drive them home, take them indoors and try to set them up and connect them to their other viewing equipment. You could offer a set price deal for a delivery and set up service.
Shop Staff
Remember that if you intend to work in the service areas of your shop you will need staff who will man the shop while you are out making repairs or busy in the service department. This will be an added cost to the shop overheads. Plan staff working hours carefully so that you do not over spend on labour.
Running Your Business from a Workshop
By running your electrical business as repair only and from a workshop you will avoid the high cost of owning a shop in a high street or other busy trading position. Staff can work in the workshop or go out to customer's homes and repair the items in situ. Customers could also bring their electrical items to your place of work and you could offer a repair while you wait service. The location of a workshop is not as important as a shop as it will not rely on passing trade.
Look Out for Special Offers
When looking at workshop space check out industrial units that offer special deals. This could be a discount on the rent or perhaps cheaper business rates as you are in a business regeneration area. Ask at your local council if there are any companies building in the location you are interested in that have cheaper entry deals. Try not to tie yourself up in a long contract in case you need to move to another area or if the business is not a success. Agencies dealing in industrial premises will also be able to put you in the right place for a good deal. You may be able to buy a unit off plan before it is built and have alteration made to suit your business.
Research the Area First
Research other businesses in the area, do they seem busy? What are their prices like compared to what you intend to charge? Will you attempt to take some of their customers away from them and will this cause problems? Is there enough business for both of you or should you look for another location for your shop or workshop? The place where you set up your business should be as free from these types of problems as possible it could be your business downfall. If you place your new business in the right location it will pay dividends sooner rather than later.
You might also like...